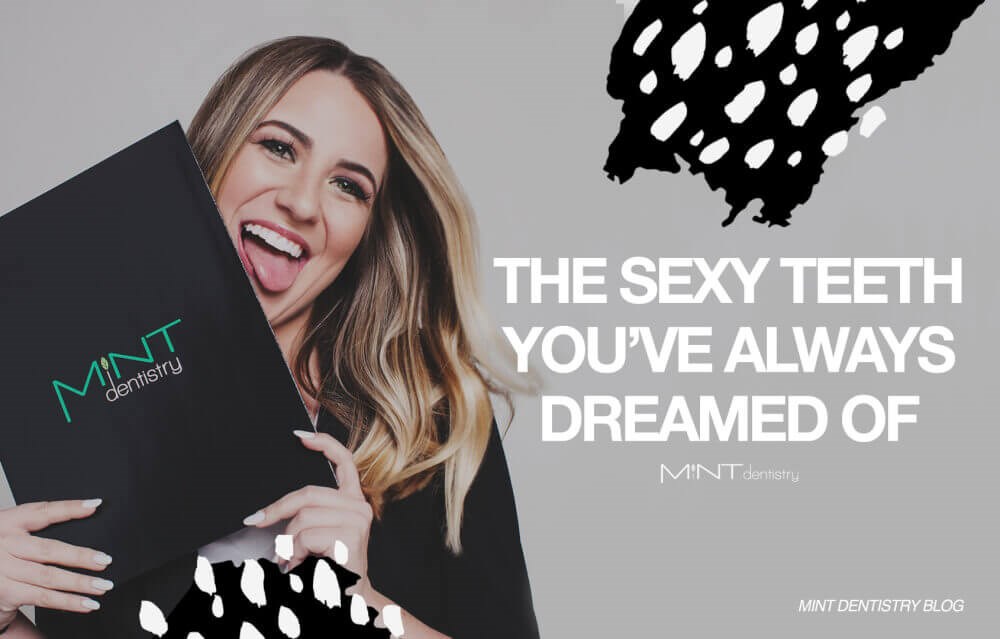 CAMOUFLAGE YOUR AESTHETIC DENTAL IMPERFECTIONS WITH PORCELAIN VENEERS
Plenty of people wish they could do something about their embarrassing, discolored, uneven, or unevenly spaced teeth. Porcelain veneers, often referred to as ceramic veneers, could be a great choice for these people. The experienced staff of dental professionals at MINT dentistry in Katy is pleased to offer custom porcelain veneers. An all-in-one aesthetic dental treatment, ceramic veneers can help with a multitude of cosmetic tooth issues to help men and women in Houston, TX achieve beautiful, amazing smiles right away. Porcelain veneers can be a wonderful option if you are looking for a minimally invasive and reliable way to refine your teeth so you are able to be more self-assured in your social and work life.
WHAT ARE VENEERS?
Veneers are quite thin porcelain covers that are applied onto the front surface of your tooth. Based on an individual's unique needs, ceramic veneers can be created to cover a wide range of superficial imperfections. Gaps, discoloration, fissures and unevenly shaped, extra-small, and chipped teeth can all be hidden by the veneers to create a gorgeous smile.
REASONS WE SHOULD DEFINITELY CHOOSE PORCELAIN
The two main kinds of veneers are made of porcelain and resin. Most dentists, including at MINT dentistry in Katy, recommend porcelain due to the fact that it is less vulnerable to staining when compared to resin, and it is stronger, as well. Porcelain also matches the look of natural teeth more closely due to the way it reflects light. One of the major reasons for using porcelain veneers is to revitalize your smile without it being noticeable that you've had an aesthetic dental procedure done. Porcelain veneers yield the most durable and most real-looking results for individuals.
MIGHT I BE AN IDEAL CANDIDATE?
Patients who want to receive veneers cannot show any signs of cavities or periodontal disease. If you want to be treated with custom porcelain veneers, your dentist will need to determine that you are in satisfactory oral health. He or she will also have to check that you have plenty of enamel, because a small amount of enamel will likely have to be shaved off in order to put on the veneers. Further, if you have bruxism or clench your teeth, you are likely not the best candidate. Individuals who suffer from any of these oral health problems will be instructed to get them seen to before they can be given any aesthetic procedures. Patients in Houston, TX who want porcelain veneers often have many different issues they would like to fix. Veneers can offer remarkable cosmetic improvements, such as in the coloration, contour, irregular sizing, and wear of the teeth. They can also mask common flaws such as crooked or irregularly shaped teeth. Other frequent reasons people get ceramic veneers include severely stained teeth, teeth that look too small (microdontia), chipped teeth, and spaces between teeth.
THE STEPS OF GETTING VENEERS
After it's been resolved that you are an appropriate candidate for ceramic veneers, a mold of your treatment area will need to be taken. Your impressions will be shipped to a dental laboratory, where your tailor-made veneers will be created from resin or high-grade porcelain. Once your oral health care provider gets your veneers back from the dental laboratory, you'll come back into the office. During this visit, a small amount of enamel will be shaved from the top sides of your teeth. This makes room for the veneers and prepares the enamel for better adhesion. The veneer procedure generally should not require any type of anesthesia. Though, if you experience dental anxieties, "laughing gas" or a mild oral-conscious medication may be requested. After the veneers are attached, slight tweaks may be done to verify that they are comfortable and fit well. After a nice polish of your veneers, you'll be released to leave with your enhanced, gorgeous smile to go about your normal routine. This simple cosmetic dental procedure can remove the embarrassment you used to have and help you feel more self-assured.
TAKING CARE OF YOUR PORCELAIN VENEERS
Some individuals will experience a slight sensitivity to food and drinks that are hot or cold for a few days after their veneers are placed, but this feeling should recede without intervention. Regarding staining, porcelain is less vulnerable than tooth enamel, but you still should be careful when eating or drinking things that might discolor your teeth (for example, coffee, red wine, and berries). In order to maintain your veneers, as well as your natural teeth, you need to keep up an appropriate home oral health routine. This means brushing and flossing your teeth daily. Also key is to make sure that you make appointments with your dentist in Houston, TX no less than two times every year for your oral health assessment and biannual cleanings.
WHAT DO DENTAL VENEERS TYPICALLY COST?
Expenses for cosmetic veneers depend on your unique treatment plan. When you have your first appointment, your dentist will evaluate your dental concerns and discuss how many cosmetic veneers you need and where, which will impact your total pricing. While cosmetic procedures like veneers are not likely to be covered by dental insurance, MINT dentistry in Katy welcomes many kinds of payments, in addition to various financing options. If you want to have porcelain veneers, we will work with you to make your new smile more easily achievable.
HOW MANY YEARS SHOULD VENEERS STAY ON?
If cared for properly, ceramic veneers can last from 10 – 20 years. Porcelain veneers are extremely strong, so when they are properly cared for, they ought to last for a very long time. When you have your annual oral health evaluation, your dentist should look at the state of your porcelain veneers and go over whether you should have them replaced.
HAVE A BRIGHTER SMILE WITH PORCELAIN VENEERS
Dental veneers can address numerous kinds of dental flaws and provide you with a sexy new smile and a huge boost in self-assurance. Whenever you want to find out more about ceramic veneers, please contact us at MINT dentistry in Katy to set up an examination and informative consultation. We will discuss whether or not you are a good candidate for cosmetic veneers, as well as your dental issues and goals, before developing your custom treatment plan. Remember to request to view our before-and-after pictures of previous patients in Houston, TX who have undergone a smile makeover with porcelain veneers. Before and afters will help you get a better idea of how your results could look.